Fabien Peyruc
History & Training
I was born in 1978, in Castres (France) and began my apprenticeship in 1999, at the I.P.I.A.L.L. Antonio Stradivari in Cremona, Italy. I finished my training at the School of Stringed Instrument-making in Mirecourt, where I was awarded my Craft Diploma in 2003.

From 2003 to 2006,
I dedicated myself to instrument-making and presented my instruments at a variety of musical and instrument-making events.

From 2006 to 2009,
I worked as an assistant to Bernard Sabatier in Paris, maintaining, restoring and adjusting stringed bowed instruments. Through my work with Bernard Sabatier, my expertise grew observing large number of 18th and 19th Century French and Italian instruments.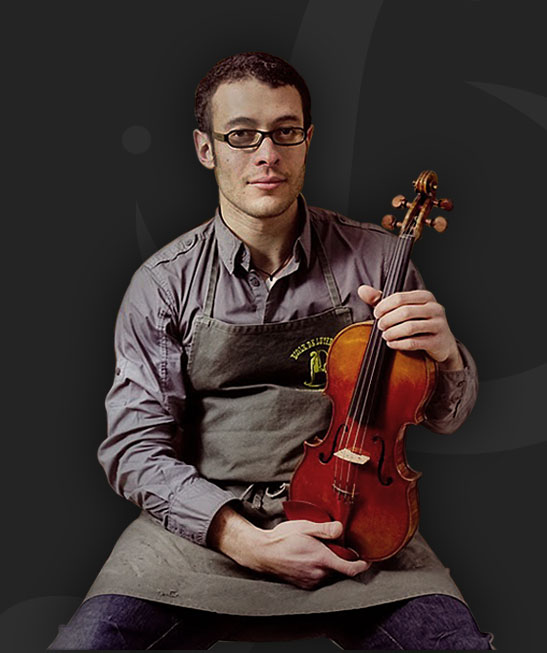 Arrival
in Toulouse
In January 2009, I took over the Delfour workshop and settled in Toulouse.
In december 2010, I obtained a Certificate of Merit at violinmaking competition Violoncellenseine, in Paris.
In may 2011, I am finalist with a violin at Henryk Wieniawski violinmaking competition, in Poznan (Poland).
In december 2012, I am finalist with a baroque cello at violinmaking competition Violoncellenseine, in Paris.
In april 2014, I am finalist with a viola at violinmaking competition Viola's in Paris.
I am a member of the Violin Society of America, A.L.A.D.F.I. and ACADOC.

VIOLIN MAKING
Photo gallery
Discover Fabien Peyruc's workshop in Toulouse through our photo gallery